Hey mermaidzzz!! Back with my weekday advertorial trails!!
Kickstarting the list to blow your mundane monday blues away, here's www.ilove-cupcakes.net
read on because there's a jaw dropping promo code exclusive for you girls here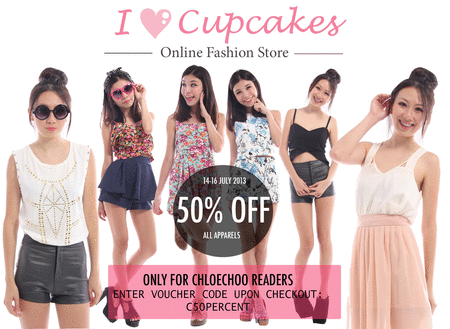 I went to their site and I was super amazed!! I especially like the cap snapback preorder part!! Like ALOT. The flora snapbacks are soooo pretttyyyyyy!!
Other than that, I also really like the instock 2 piece apparels section!! Every set there looks so quirky and gorgeous!!
Apart from the two that I've mentioned you can find a range of bags and accessories that are instock and preorders that are opened for Toms, Keds and FitFlops!!
nowwww for the crazy whooping ass promo code
quote C50PERCENT and get 50% off your purchases!!
promo code only valid for apparels
+
Second webstore up for you would be....www.stylexotic.blogspot.sg
Got myself a few items from them previously and up till date, I'm loving every piece!!
This time, I got to choose two items and they snugged another piece in. toosweeeetttttt
1 : Kenzo Inspired Tee
I have not come across anything similar so far and I thought it was pretty unique in the market!! really like how the lines of the tiger is like illuminating against the black cotton
2 : Make Noise Crop Top
Hahahaha can't be more apt for me. I thought this top was pretty casual and very "me" cos I'm always ever noisy...hahaha anddddd also gotta say I really didn't expect this from a crop top but the cutting is greeeaattttt!!
Pretty much it!! Now you can head over to their website and start checking out with a cart full of awesome clothes!!
but before you go!! you may want to take a look at their crazy promotion that they launch every collection!!!!!!!!!!!
all you have to do is follow the instructions on their facebook page to be qualified to win!!
not to forget...
Check out with "chloec8" to be entitled to a dollar cut in your total bill!!
promo code valid for the month of July only
www.styleoxtic.blogspot.sg
+
Next up would be.... hint: they are probably a drink that majority of you loveeeee to order at the bubble tea shop!! if you're guessing....pearlmilkteea www.shoppmt.com you're absolutely right!!
Shot with them for this collection and I must say all their items are super lovely!!
I got to keep two items and I crazy love them both!!
I - Shadow Slit Front Maxi Dress
if you read long enough, I'll always say I especially love the high neck cuttings and this is definitely it!! really like how this dress has a shorter lining skirt inside it and the rest of it is made of chiffon super flowy!!
II - Polka Dots Ruffle Crop Top
When will I ever stop obsessing over polka dots?! This is tooooooooooo cute!!!!!! The ruffles part reminds me of the retro swim wears but this is in cotton!! Was very happy I found this piece of treasure amidst the mountain of goodies there!!
Quote "CHLOECHOOXPMT" to enjoy complimentary normal postage!!
www.shoppmt.com
x